When the English Language Proficiency Unit (ELPU) was established in 1979, its main goal was to support undergraduates who were weak in their English language proficiency. The unit's role was later expanded to include the development of undergraduate and graduate students' communication competencies. In line with this, ELPU was renamed the Centre for English Language Communication (CELC) on 1 December 1996. Today, the Centre continues to play a vital role in enhancing the English language and communication skills of both local and international undergraduate and graduate students at the National University of Singapore. The types of modules the Centre offers range from basic academic literacy to writing and critical thinking, business and professional communication, and embedded for undergraduate, graduate, and adult students in diverse higher education settings.
We aspire to be a leading international centre for the teaching of English language and communication skills and the engagement in research that facilitates scholarly teaching.
Our mission is to empower our students to acquire effective English language and communication skills for their academic and professional lives through innovative teaching, promotion of independent learning and engagement in research related to ELT.
We achieve this mission by:

providing well designed and relevant programmes,
preparing students for the communication needs of the university and the workplace,
promoting independent learning through the provision of self-access learning environments,
adopting innovative teaching practices grounded in research,
designing and administering effective language assessments,
enhancing professional growth by keeping abreast of current developments in theory, research, pedagogy and Information Technology
conducting classroom based research on the teaching of English and communication skills,
collaborating with departments and faculties across the university to meet students' language and communication needs and
sharing expertise with ELT practitioners through publications, conferences and academic collaboration.
The Able Communicator Framework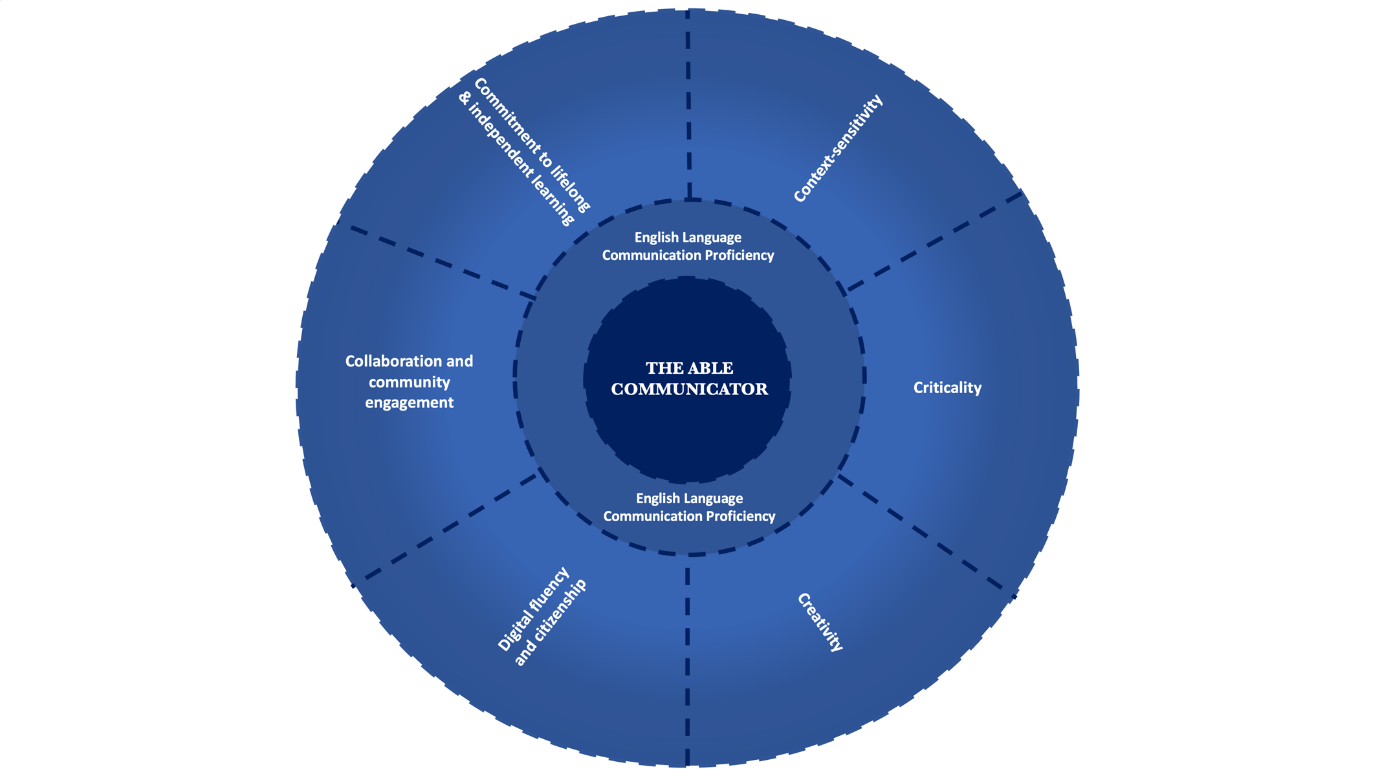 The Able Communicator Initiative was launched by the Centre for English Language Communication in 2010 to ensure that students communicate effectively in the dynamic contexts of the university and the workplace.  It offers faculty members a conceptual guide in thinking about the range of courses offered by the Centre. Through the years, the able communicator as reflected in CELC's existing suite of courses is one that is proficient in language, context-sensitive, critical, and creative.  To respond to the demands of the evolving national and global contexts, CELC also aims at developing courses that are explicitly designed to meet the need for students to be digitally fluent, to be collaborative and engaged with the community, and to be disposed towards life-long and independent learning.