28
Fri 15 Mar | 8:00pm
UCC Theatre
Public $25 | Students $15
70 minutes, no intermission
Please be seated at least 15 minutes before the programme begins.
Event closed
"The mathematician's patterns, like the painter's or the poet's must be beautiful; the ideas like the colours or the words, must fit together in a harmonious way."
– G. H. Hardy
Taking its name from the panchanadais: five basic jatis (rhythmic beats) that form the basis of Bharatanatyam dance, NUS Indian Dance's 28 celebrates the beauty of symmetry, geometry and proportion in art and nature. In 28, Artistic Director and Resident Choreographer Mrs Santha Bhaskar draws inspiration from Da Vinci's The Vitruvian Man, the Golden Ratio and the Fibonacci sequence, expressing these mathematical patterns through richly-textured visuals and original music in an evening of alluring classical Indian dance choreography.


Mrs Santha Bhaskar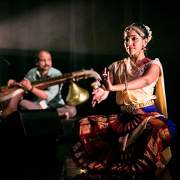 NUS Indian Dance
Mrs Santha Bhaskar
Artistic Director & Resident Choreographer
A Cultural Medallion recipient (1990) for dance in Singapore, Santha Bhaskar is known for her distinctive choreography style and was awarded the Public Service Star (BBM), by the Singapore Government.on National Day 2016 as well. She is also the Artistic Director of Bhaskar's Arts Academy.
A versatile choreographer, she has staged numerous productions from dance dramas to contemporary works in classical Indian dance as well as cross-cultural and experimental forms reflecting the unique Singapore identity. Over the years she has imbibed various influences such as Chinese, Malay, Thai and western dance styles in her choreography.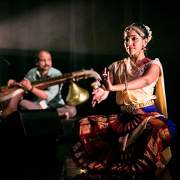 NUS Indian Dance
Established in 1977, NUS Indian Dance is a close-knit group of highly committed dancers that welcomes dancers into a dance family where growth and learning is encouraged. The group is faithfully guided by its Artistic Director and Resident Choreographer, Mrs Santha Bhaskar, a pioneer in the Indian cultural dance scene and Cultural Medallion recipient.
Having been a part of NUS Arts Festival since 2006, the group is recognised for exploring contemporary themes such as quantum technology, glass ceiling and feminism and even incorporates them through poetry. Whilst primarily specialising in Bharatanatyam, the group occasionally include other classical dance forms such as Kathak, Mohiniyattam and Odissi in their productions as well.