The Art of War 战数
(Closing Show)
Sat 23 Mar | 7:30pm
UCC Hall
Public $25 | Students $15
90 minutes, 15 minutes intermission
Please be seated at least 15 minutes before the programme begins.
Event closed
Since the Shang Dynasty, the Chinese have independently developed concepts in algebra, geometry, trigonometry as well as decimal and binary systems, establishing themselves as the world's foremost mathematicians. From architectural marvels to Sun Tzu's The Art of War and the military strategies of the Three Kingdoms, the history of China is replete with stories of how mathematics has shaped the development of Chinese civilisations.
Through classic Chinese works such as The Great Wall Capriccio 《长城随想曲》, Yellow River Concerto 《黄河钢琴协奏曲》 and a revisit of Symphonic Poem: The Battle of Red Cliffs 《交响诗:赤壁》, NUS Chinese Orchestra will retell the history of China, and how mathematics has played a role in its survival and success. Featuring Tenor soloist Raymond Lee, and pianist Tan Tzu Kuang, concerto competition winner from the Yong Siew Toh Conservatory of Music.


Moses Gay En Hui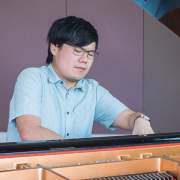 Tzu Kuang Tan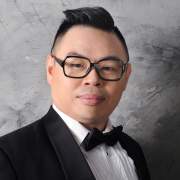 Raymond Lee Pei Khoon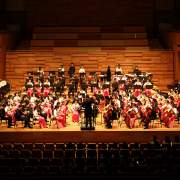 NUS Chinese Orchestra
Moses Gay En Hui
Conductor
Hailed by The Straits Times as an "excellent young conductor", Moses Gay's first foray into conducting began at the precocious age of 15, where he earned great praise from renowned Chinese conductor Ku Lap Man. Since then, he has developed into an outstanding musician, graduating with First Class Honours from the Nanyang Academy of Fine Arts and obtaining a Master's Degree in Orchestral Conducting at the China Conservatory of Music, both on full scholarship. In 2014, he was granted tenure as Assistant Conductor of the Singapore Chinese Orchestra (SCO), Singapore's only professional Chinese Orchestra, where he continues to grow as a conductor. Gay is also currently the Music Director of the National University of Singapore Chinese Orchestra.
During the course of his study, Gay was privileged to learn from eminent conductors such as Roberto Paternostro, Martin Sieghart, Vance George, Mark Gibson, Leon Gregorian, Wolfgang Doerner and Marc Trautmann in various masterclasses and as their assistant, receiving positive appraisals from all. In 2011, he was mentored by Alexander Polischuk at the Saint Petersburg State Conservatory in Russia and throughout his postgraduate course, received tutelage from Professor Youqing Yang and Tsung Yeh (the Music Director of SCO).
Gay's conducting experience extends beyond Chinese orchestral music. In 2015, he was invited to collaborate with the Orchestre Régional de Cannes in France, and in 2017 alone has conducted the Moravian Philharmonic Orchestra and the South Czech Philharmonic in Czech Republic, and the Berlin Sinfonietta in Germany.
Bolstering his already impressive portfolio, Gay also has compositional arrangement experience. Most notably, his arrangement of Gathering for the quintet StringWerkz received the "Special Prize for Original Arrangement" at the 2013 3rd Terem Crossover International Music Competition in Saint Petersburg, Russia.
As an individual erhu performer, Gay has been invited to Rennes, France to perform the Red Plum Capriccio Concerto with the Orchestre Symphonique de Bretagne and to helm a workshop in erhu performance at the Institut Confucius de Bretagne. He has also been honoured to receive coaching from famed erhu doyenne Min Hui Fen and erhu master Zhang Shao. Gay owes his musical journey to Zhang Yu Ming, to whom he expresses his heartfelt gratitude.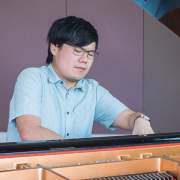 Tzu Kuang Tan
Piano Soloist
Tzu Kuang Tan is currently in his final year of study pursuing his Bachelor of music at the Yong Siew Toh Conservatory of Music under Mr Albert Tiu. He began his musical journey at the age of 12 after being inspired by Malaysian concert pianist Yong Sue Yi, also previously under the tutelage of Mr Tiu.
From then on, Tzu Kuang studied under Wah Yi Shuen and Loo Bang Hean who continued his interest in music. Recently, he was awarded the grand prize for the Yong Siew Toh Conservatory of Music Concerto competition with his performance of Macdowell Piano Concerto No.2 in D minor with the Conservatory Orchestra.
With his love of chamber music, Tzu Kuang has collaborated with many artists. He also spent his summer at the Collaborative Piano Institute studying with a renowned collaborative pianist Martin Katz. He also played in many recitals with other musicians in the United States, Austria, Singapore and also in his home country Malaysia.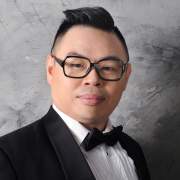 Raymond Lee Pei Khoon
Tenor Soloist
A native of Malaysia, Singaporean Tenor Raymond obtained his Diploma in Music Performance (Vocal Studies) at the Nanyang Academy of Fine Arts, and Bachelor of Arts (Honours) in Music from the University of Wales under the guidance of Lim Shieh Yih. In 2015, Raymond graduated a Master's Degree in Choral Conducting, under tutelage of Prof. Pedro Monteiro at the University of Saint Joseph.
Raymond was the first prize winner of the 34th and 37th Malaysia National Art Song Singing Competition (2008 & 2011); The Trinity Guildhall Music Competition in Singapore (2011) and the American Protégé International Vocal Competition (2016) in Traditional Repertoire (Professional Group).
Raymond made his operatic debut in 2011 with the Singapore Lyric Opera as the 2nd Jew in Strauss's Salome. In 2016, he sings as Pang in Puccini's Turandot, while later in 2018, he sings as Scholar Tao with the Singapore Chinese Orchestra in their semi-staged performance of Liu San Jie.
Raymond has performed in Malaysia, Indonesia, China, Thailand, Macau, Hong Kong, Singapore and United States. Raymond performed the Tenor Solo in Bach's Motet BWV227, Cantata BWV24, Mass in B Minor, and Beethoven's Symphony No.9.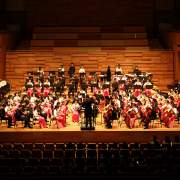 NUS Chinese Orchestra
Under the instruction of Resident Conductor Moses Gay, the NUS Chinese Orchestra (NUSCO) takes pride in its diverse repertoire, ranging from traditional chamber music to technically demanding contemporary works by both local and overseas composers.
In its endeavour to inspire young musicians and uphold the standards of a premier orchestra, NUSCO regularly takes up the challenge of performing technically demanding symphonies and capriccios during its concerts, and has performed great works such as Great Wall Capriccio, The Story of Lan Hua Hua and A Glimpse of Taklamakan.
NUSCO also actively participates in the promotion of the arts not just within the Chinese music scene in Singapore but also in many other cultural regions and countries around the world.