The Child Who Loved Numbers

喜欢数字的孩子
Fri & Sat 22 & 23 Mar | 7:30pm, Sat 23 Mar | 3:00pm
UCC Dance Studio
Public $25 | Students $15
75 minutes, no intermission
Please be seated at least 15 minutes before the programme begins.
Event closed
Height. Weight. Size. PSLE Grades. CAP Score. Postal Code. Phone Number. Lucky numbers. Numbers to be avoided. What do they all add up to?
Directed by Singapore theatre practitioner Judy Ngo (Family Secrets, If There Are Seasons) and devised together with NUS Chinese Drama, The Child Who Loved Numbers explores how numbers have different social and cultural meanings across borders and generations. In carrying the weight of these numbers on our shoulders, we reflect how they have necessarily or perhaps unduly affected the way we view ourselves.
我们往往习惯以数字衡量人生的各方面,如身高、体重、年龄、房价、分数、薪水。但在什么时候开始,我们需要用数字作为幸福感,存在感,成就感,甚至是人生价值的凭据?
有些人总需要以数字证明自己的价值。有些人虽受数字所束缚却能够勇于突破数字所限,创造更好的自己。你呢?
由吴美箬指导,国立大学中文戏剧社制作,通过《喜欢数字的孩子》,让我们一起探讨数字在现今生活中的地位。
Performed in Mandarin with English subtitles.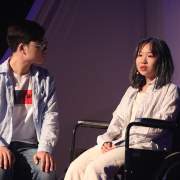 NUS Chinese Drama

国立大学中文戏剧社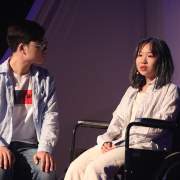 NUS Chinese Drama
国立大学中文戏剧社
Formed in 2003, NUS Chinese Drama is a youthful theatre group that aims to promote Chinese language theatre arts through varied forms of performances that explores themes which are cutting edge and relevant to their generation. The group firmly believes in four principal values: a passion for Chinese language theatre, perseverance in training, openness to change and commitment to community.
Previously mentored by Peter Sau and Li Xie, the group focused on community theatre and forum theatre. NUS Chinese Drama presented Funeral in 2012 which highlighted the dilemma of loss of importance of traditional funeral rites and Just A Bad Day in 2014 about violence against women, gleaned from forum theatre sessions. They have also engaged audiences in bold experimental theatre such as invisible theatre around the campus, eliciting reactions from the public when they encountered violence against women and participatory theatre in Dream School which facilitated a space for conversations among NUS students to explore the role and meaning that education plays in today's society. In recent years, NUS Chinese Drama has chosen to work with scripted plays translated into Mandarin such as Dario Fo's Can't Pay Won't Pay and Dear Miss Ye based on Dear Elena Sergeevna, a work written by Russian playwright Lyudmila Razumovskaya as part of the NUS Arts Festival 2015 and 2017 respectively where students were encouraged and given opportunities to take on greater responsibilities for directing, producing and production.
NUS Chinese Drama continues to nurture the next generation of actors through training with established theatre practitioners and expanding their potential to express different perspectives and viewpoints through Chinese language theatre.