TOUCH 2019
Tue 19 Mar | 7:30pm
Esplanade Recital Studio
$20
Please be seated at least 15 minutes before the programme begins.
Event closed
NUS Piano Ensemble will present a spectacular evening of piano duo music, featuring a host of music by 20th-century composers. Prominently included in this year's repertoire are piano duo arrangements from Russian composer Igor Stravinsky's Rite of Spring, the infamous ballet that is seen by many as a milestone in music history. Touch 2019 will also feature a Singapore premiere performance of Polish composer Alexandre Tansman's Sonata for Two Pianos.

Timothy Ku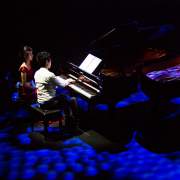 NUS Piano Ensemble
Timothy Ku
Music Director
After winning a prize in the 1989 National Music Competition, Timothy Ku left to study music in New York. Ku has worked with a number of prominent pianists and pedagogues, including Adam Wodnicki, Marc Silverman, Nina Svetlanova, Michael Rogers and Agustin Anievas. He also studied the harpsichord under the renowned Louis Bagger, and conducted with Glen Cortese and Bruce McIntire. He was the resident pianist for the Singapore Symphony Chorus under Bart Folse and the Principal Study Teacher & Piano Repertoire Lecturer at Nanyang Academy of Fine Arts. Timothy Ku's current duties include music directorship of NUS Piano Ensemble and Victoria Junior College Piano Ensemble, tutorship with NTU Piano Ensemble, and Principal-Study Teacher-Lecturer at School of the Arts.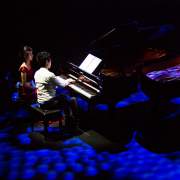 NUS Piano Ensemble
With the unique motto No one plays alone, NUS Piano Ensemble (NUSPE) focuses on ensemble playing rather than solo performances, and is a group that values friendship and partnership at the piano.
Founded in 1987 by undergraduates with a passion for the piano and performing, NUSPE's core repertoire today consists of piano works for duet and duo pianos, with the aim of promoting an appreciation for piano music and providing performance opportunities for aspiring pianists.
Although NUSPE'S niche is classical music, it has not shied away from experimenting with a range of performance and musical styles, including works which see the piano in concert with other instruments. Eclectic genres such as jazz and contemporary popular music also influence the group's repertoire. Collaborative opportunities with other art forms such as dance, theatre, and literature have also materialised as innovative and refreshing performances.