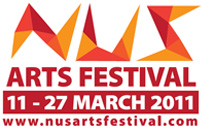 Welcome to NUS Arts Festival 2011, NUS' flagship arts season! Happening over three weekends from 11 to 27 March 2011, there are close to 40 shows, 25 of which are free. Featuring as well a diverse fringe programme, NUS Arts Fest offers you a world of choice!
A dynamic youth-driven festival that sets audiences thinking, NUS Arts Festival 2011 journeys further into the Asian paradigm. Enter unique spaces to relax and admire, but also find your own views on today's global Asia. Besides dance, music and theatre, treat yourself to a great lineup of free live music gigs and contemporary films.
Tickets are available at all SISTIC. Queries and feedback are welcome at nusartsfestival@nus.edu.sg
Kindly note some updates to the Festival:
Our Closing Show, Shut up and Dance 2011: DanXvolution by NUS Dance Blast! is sold out. Thank you for your support!
Yodok Stories and Cape No. 7 are both rated NC-17. Please produce photo ID bearing date-of-birth for entry, if requested.  
Power of Notions /Notion of Power will have one performance from 8.00 – 9.30pm on 12 and 13 March.  Registration is required at museum@nus.edu.sg or 6516 8429 / 6516 8817. Limited to 35 pax per night. This show is fully registered for 12 March.